PURESIL™, a new brand of innovative silicones for personal care manufacturers worldwide
PURESIL™ is Elkem Silicones new brand and portfolio of innovative and differentiated specialty silicone solutions to serve the fast-growing global demand for more sophisticated, high-performance and personalized personal care products.


What role do silicones play in meeting the growing global demand for improved personal care products?
Every year, hundreds of thousands of personal care and cosmetic products are launched worldwide. A high percentage of these use silicones in their formulations to enhance their efficacy in a wide variety of applications: skin and hair care, sun protection, deodorants and color cosmetics, such as lipsticks and eye shadow.
Why are silicone-based formulations the material of choice for personal care products?
First, silicones in various forms are key ingredients to provide the silky, smooth, feel-good sensation people desire when they apply personal care products. Second, silicones are essential in enabling these products to perform better instantly, while enabling the active ingredients to deliver lasting benefits when used regularly: increased moisturizing power, greater elasticity, wrinkle blurring and anti-aging effects, sun screening (SPF UV protection), etc. Beyond these performance benefits, consumers are also increasingly looking for more naturally sourced and green sustainable products, such as plant-based or organic solutions. This growing demand, both quantitative and qualitative, is a major challenge for silicone manufacturers, who must stay in tune with constantly evolving consumer expectations and the increasingly sophisticated beauty and personal care formulations that manufacturers demand.
Why has Elkem Silicones created PURESIL™ as its strategic brand to provide global markets with advanced silicone technologies for high-performance personal care products?
Since 1995, Elkem Silicones has been developing and producing its full-range line of MIRASIL™ silicone chemistries to serve global personal care markets, including skin care, color cosmetics, hair care and deodorant manufacturing. Through its laboratories, production centers and sales channels on four continents, Elkem Silicones has established itself as a leading global supplier of silicone-based materials for these markets.
In 2019, Elkem Silicones further strengthened its position in personal care by acquiring Basel Chemie. This Korean company has, over the last 20 years, established its expertise in its home country and Asia, servicing leading skincare product manufacturers with a comprehensive and differentiated range of specialty offerings.
These are used for high-performance customized applications in skin care, color cosmetics, sun protection and hair products. Basel Chemie products have played a key role in developing what is known as K-Beauty. Elle Magazine Britain described it as "the Korean influence upon our own skin routines and the epic product imports from the country itself. K-Beauty is the secret to looking as luminous as is humanly possible".
In 2020, Elkem Silicones is currently launching PURESIL™, its new brand to leverage this innovative and holistic portfolio and make it available to cosmetics formulators and manufacturers worldwide. PURESIL™ will combine Basel Chemie's - high performance offerings and application expertise with Elkem's global market reach, quality with reliability and regulatory compliance. Elkem Silicones, as it always has, will ensure that PURESIL™ specialty silicone offerings are always effective, safe, convenient for the most demanding consumers and comply with regulatory standards around the world.
What is Elkem Silicones development and rollout plan for PURESIL™ and what does the brand mean for personal care manufacturers and consumers?
Elkem Silicones PURESIL™ brand will represent specialty silicone solutions for personal care products, whether developed inhouse or through acquisitions.
The PURESIL™ brand represents Elkem Silicones new capability of innovative technology offerings and application expertise. It means we will enable customers to develop winning products that are in tune with market trends and consumer desires in a highly competitive sector. PURESIL™ prod
ucts will continue our longstanding commitment to our customers: Delivering Your Potential.
In April 2020, Elkem Silicones launched its first wave of PURESIL™ products, a series of elastomer gels that offer a wide range of advantages.
Advanced technology and differentiated performance – Crosslinked elastomer gels that are superior beauty enhancers. With particle sizes that are 5 to10 times smaller than that of the competition, these elastomer gels deliver higher efficacies in sensorial skin enhancement and perceivable winkle blurring effect
A comprehensive portfolio – 11 products – to offer choices and meet diverse application needs

A choice of volatile, non-volatile, silicone or organic carriers
A distinct beauty-enhancing green offering –over 80% of the product naturally derived from sugar cane
Suitable for skin care, color cosmetics, sun care, and leave-in hair products, etc.
Can be used in anhydrous or water-based formulations
Meeting consumers' greatest desire: instant transformation for a younger look and feel

A superior silky, smooth, powdery, cushiony feel for the production of distinctive and luxurious personal care products
Optical wrinkling masking and anti-aging sensations
UV protection SPF booster
Rheology modifier, can enable creative formulation textures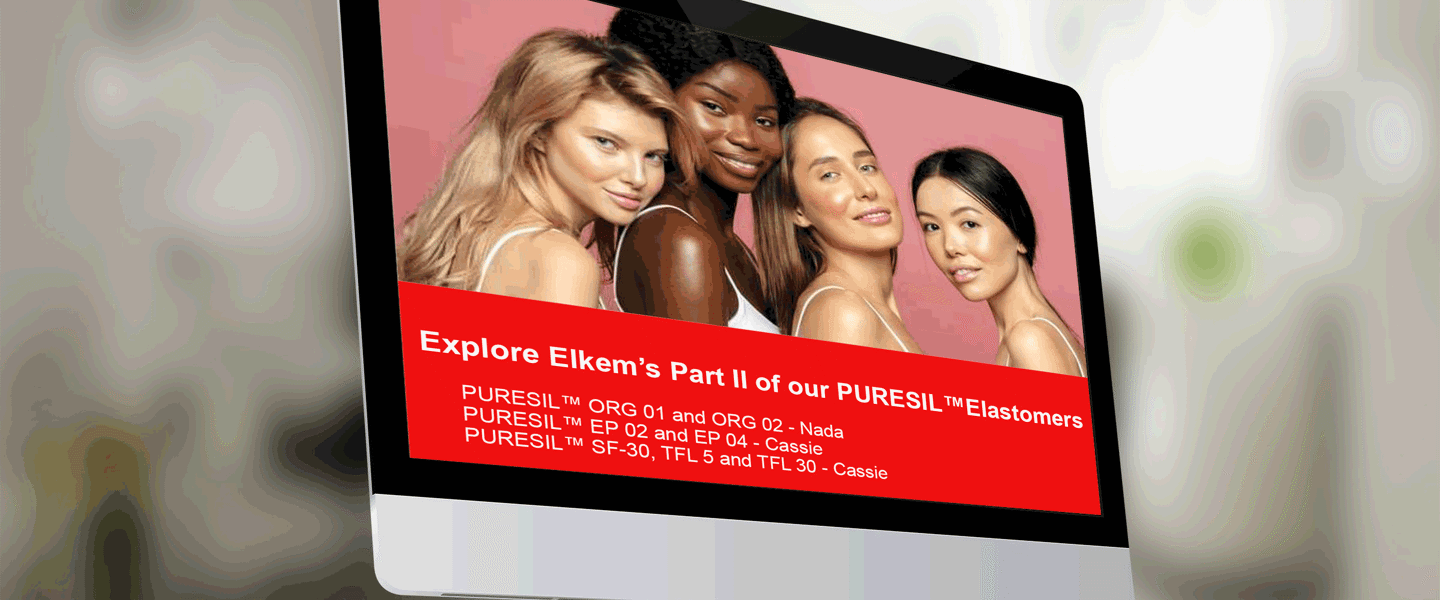 Webinar : the extended PURESIL series
This webinar is the opportunity for you to discover our extended series: PURESIL™ EP Series, PURESIL™ FSI Series, PURESIL™ ORG Series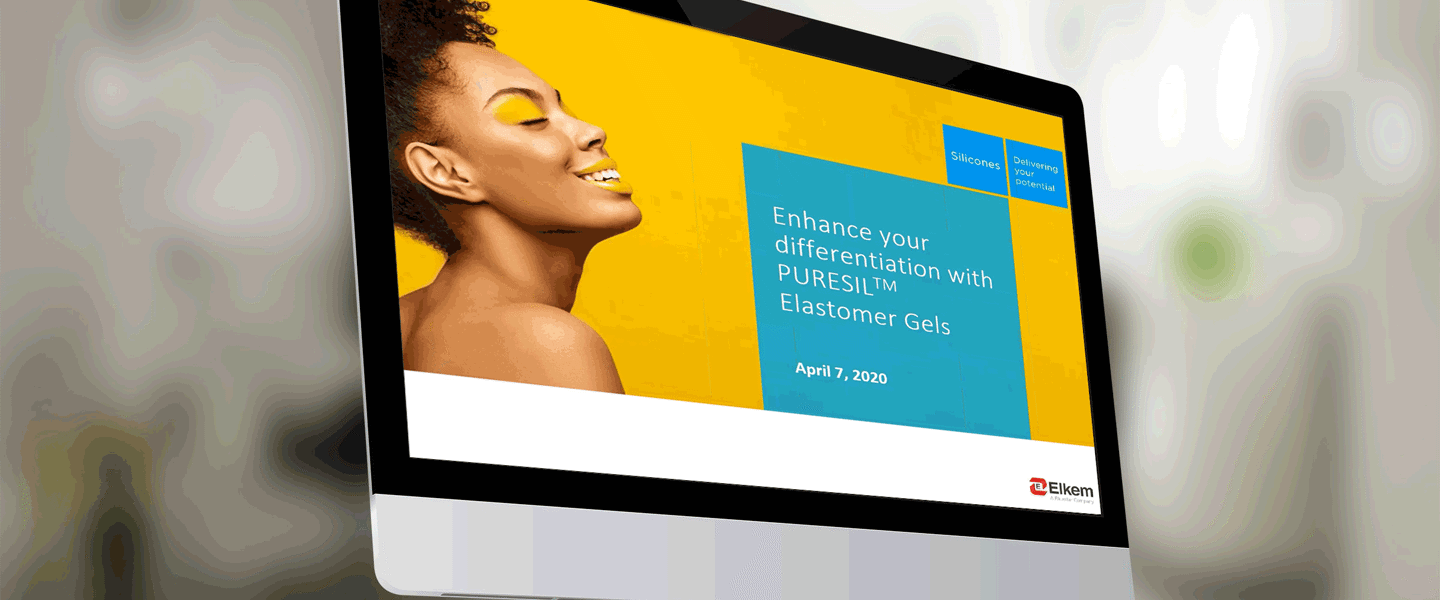 Webinar: PURESIL™ Elastomer Gel Series
In this webinar, you will learn more about their advantages and options.