What is RTV-1 silicone?
RTV-1 is a one-component, Room Temperature Vulcanization silicone rubber that cures at room temperature. They are simple to use, apply and require no special preparation. RTV-1 silicones are ideal in critical applications where convenience and speed are prime requirements.

Chemical structure
RTV-1 silicones are made of a mixture of polydimethylsiloxanes, crosslinking agents (creating 3-dimensional network), fillers, and auxiliaries. Crosslinking is triggered when the material comes into contact with atmospheric moisture and then proceeds to eliminate unwanted byproducts. The process begins at the surface with the formation of a surface film and gradually extends further into the heart of the silicone rubber compound. The byproduct, which is formed in small quantities, varies with the type of crosslinking agent employed and may be an amine, acetic acid or a neutral compound, such as alcohol.
RTV-1 silicone properties
For practical purposes, RTV-1 silicone rubbers are ideal solutions for ensuring numerous sealing, bonding and coating operations. Adhesion can range from controlled adhesion to self-adhesion, the Shore A hardness can be modulated from 18 to 60. Elongation at break can range from 150 % up to 700 %. Due to their unique and robust chemical properties, RTV-1 silicones provide excellent resistance, enabling them to endure harsh weather and other aggressive conditions and age well, maintaining their initial properties far better than competing products, such as plastics or other polymers. Special additives enable RTV-1 silicone rubber to also withstand extremely high and low temperatures, thus enabling them to be adapted to the most challenging applications.
Why use RTV-1 silicone?
The main benefit of using RTV-1 silicones in critical applications is the high-temperature resistance and chemical resistance for sealing and bonding of various mechanisms. All these features result in remarkable performance levels in terms of resistance to engine and gearbox fluids and excellent adhesion to different parts, made of metals and plastics. Our many automotive customers use it as sealing for car engines and gearboxes, which are exposed to mechanical stress, aggressive chemical fluids and extreme temperature variations. The characteristics of RTV-1 silicones contribute to engine integrity and durability in these harsh conditions. RTV-1 silicones have been integrated into many global automotive OEM specifications. These products are also intensively used in Aeronautics and Aerospace for similar functions.
Since some RTV-1 silicones have a chemically neutral curing system, guaranteeing no oxidation on contact with metals, they are also intensively used in the bonding and protection of Electronics components. These neutral RTV-1 silicones are odorless and they are particularly well adapted to the creation of safe and non-toxic workstation environments. Their rapid skin formation time is suited to industrial constraints, such as just-in-time scheduling, thus allowing great flexibility in interdependent processes.
Revision sheet
RTV-1, one-component Room Temperature Vulcanizing, is based on a poly-condensation reaction. This type of silicone rubber is made with an OH terminated silicone polymer, crosslinker and a catalyst. The latter being in most of the case an organic tin compound.
RTV-1 features convenient characteristics such as easy application, soft curing conditions, good adhesion, weather and heat resistance.
RTV-1 with OH terminated silicone polymer, crosslinker, fiber and catalyst.
Pre-mixed compounds for specific processes and in-vacuum or N2 protection, subsequently dispensed by tools, with defined moisture evacuation and curing times.
Application/final products
​RTV-1 is used in construction, industrial sealing and bonding, gaskets, healthcare products, coatings, etc.
Discover our latest video "What are the differences between RTV-1 and RTV-2 Silicones?":
Related applications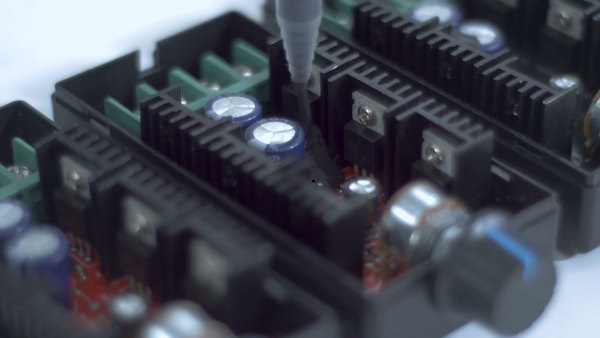 RTV-1 silicone rubbers are effective in nearly all sealing, bonding and coating applications. This is why they are used extensively in the most demanding industries and for use in the harshest conditions: automotive, construction, electrical equipment, electronics and textiles.