Manufacturers of Advanced Wound Care products are constantly searching for efficient and creative dressing solutions to treat wounds that satisfy the needs of all parties involved in the healing process:
Quick and painless treatment for patients
Efficient and safe dressings to facilitate the work of hospital staff
Cost-efficient performance for payers.
Silicone products have long been used in the medical industry because they are biocompatible and provide an ideal environment for healing. Wound dressings using Soft Skin Adhesives lessen pain when removed or repositioned and also avoid exacerbating existing wounds and ulcers.
Elkem Silicones contributes to ensuring that the most demanding specifications are met for Advanced Wound Care. Our Silbione™ solutions are designed to adhere selectively to healthy peripheral skin and not to open wounds. This is achieved with dressings using our Silbione™ Soft Skin Adhesives to make sure that wound contact and change is atraumatic and painless.
Additionally, our silicone formulations enable efficient coating and conversion in all major manufacturing processes used in the medical adhesive industry, generating cost savings and reducing complications.
To meet the strictest standard of most demanding advanced wound care customers, the following add-on services are also available upon request :
Development of a custom grade by our R&D experts
Manufacturing in an ISO 13485 certified facility
Production and packaging in an ISO 8 clean room
Guaranteed microbial safety (bioburden specified and tested for each batch)
All of these factors make Silbione™ Soft Skin Adhesives particularly suitable for a wide range of applications comprising:
Absorbent foam wound dressings
Ulcer island dressings
Post-operative dressings
Wound contact layers for negative pressure wound therapy (NPWT)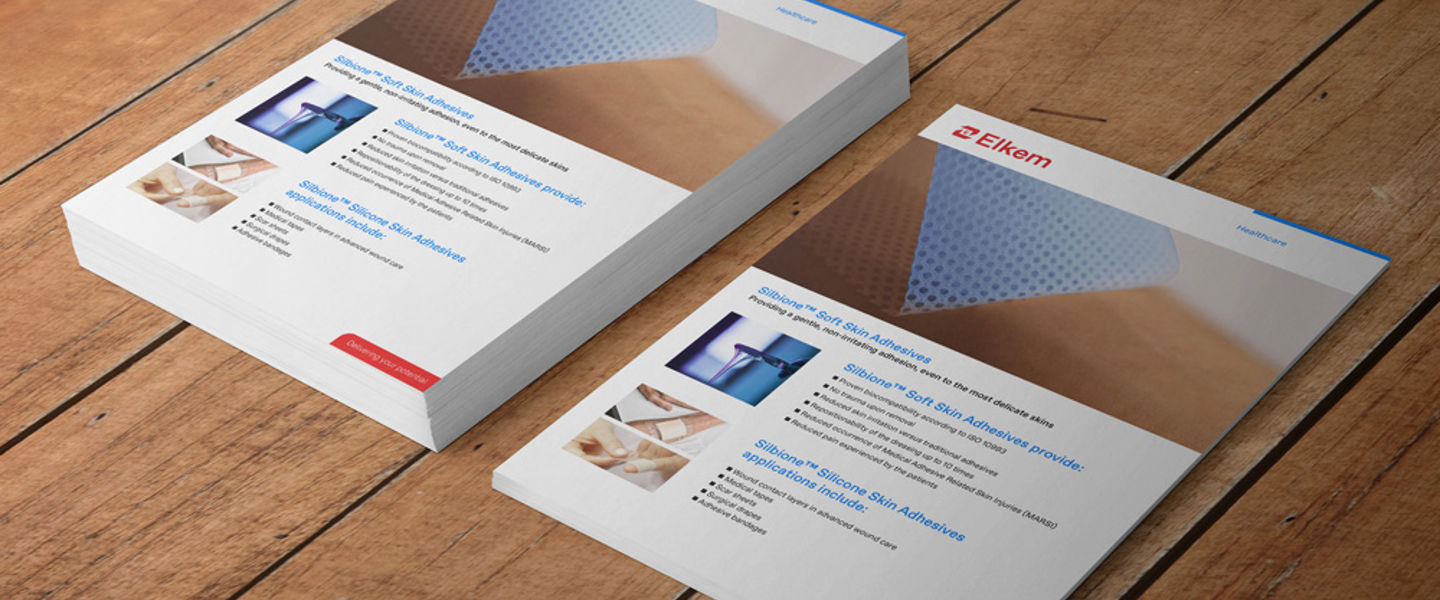 Medical Grade Silicone Soft Skin Adhesives for Healthcare application
Discover our expanding Silbione™ product line for Medical grade Skin Adhesives Gels
At Elkem Silicones, we are dedicated people located around the globe, committed to your success. Whether you are looking for a product recommendation, for customized silicone solutions, or for regulatory support, we have the people in place when and where you want them.